The Speedpark at Concord Mills "It's as Fun as it Gets!"
the speedpark at concord mills offerS go-karting, Junior karts, two seaters GO KARTS, single seater GO KARTS, 4 GO KART tracks, newly RENOVATED 18 hole miniature golf, bungee jump, 110 ft fun slide, SPIDER WEB, VIDEO GAMES and PARTY PAVILLION.
UNLIMITED EVERYTHING SALE $29.99
Get the UNLIMITED Everything Wristband including UNLIMITED Go Karting, Mini Golf, Fun Slide, Bungee Jump, Spider Climb and FUN for $29.99 ($34.99 value)
UNLIMITED EVERYTHING $29.99
Get UNLIMITED FUN with the UNLIMITED WRISTBAND! Enjoy UNLIMITED Go Karting, 18 hole Mini Golf, 110 ft. Fun Slide, Bungee Jump, 8 Story High Spider Climb and FUN!
Good for the entire day! Come and go from The Speedpark to the mall as much as you want with the Unlimited Wristband.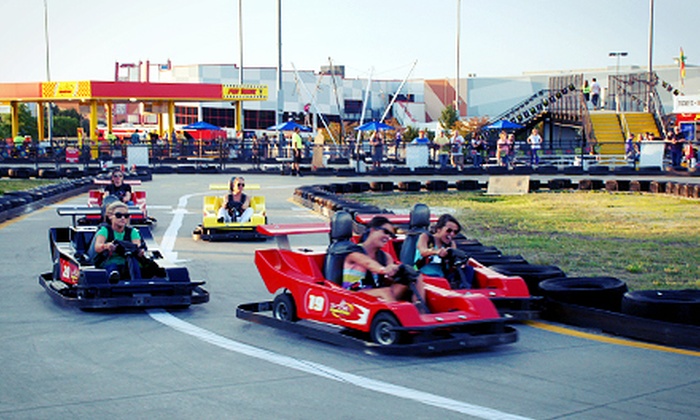 JUNIOR RACER TRACK: For the small kiddos 36-48" and a minimum 3 years old for the kiddie karts.
PRO TRACK- Race the road course like the pros! For the big kids or kid at heart. 54"+. NEW! 48"-54" can race by themselves.
RACERS TRACK- Hit the Racer Track on this challenging and fun road course. 54"+. NEW! 48"-54" can race by themselves.
The SUPERSPEEDWAY- Race on the Superspeedway Oval in 2-seater go karts. Drive by yourself or take a rider with you. Minimum 60" tall. Must be 16 with a Drivers License to drive. Passengers 36" or taller.
A FAMILY FAVORITE! Race on over to this one of a kind 18 hole miniature golf. Play 18 race themed holes thru the caves and race obstacles. Fun for all ages! Clubs and balls provided for unlimited mini golf.
UNLIMITED MINI GOLF $7 per person
UNLIMITED FUN WRISTBAND $29.99 includes Mini Golf, Go Karting and All Attractions.
HAUNTED MINI GOLF- Open October Weekends starting October 4th. A little haunted FUN for EVERYONE.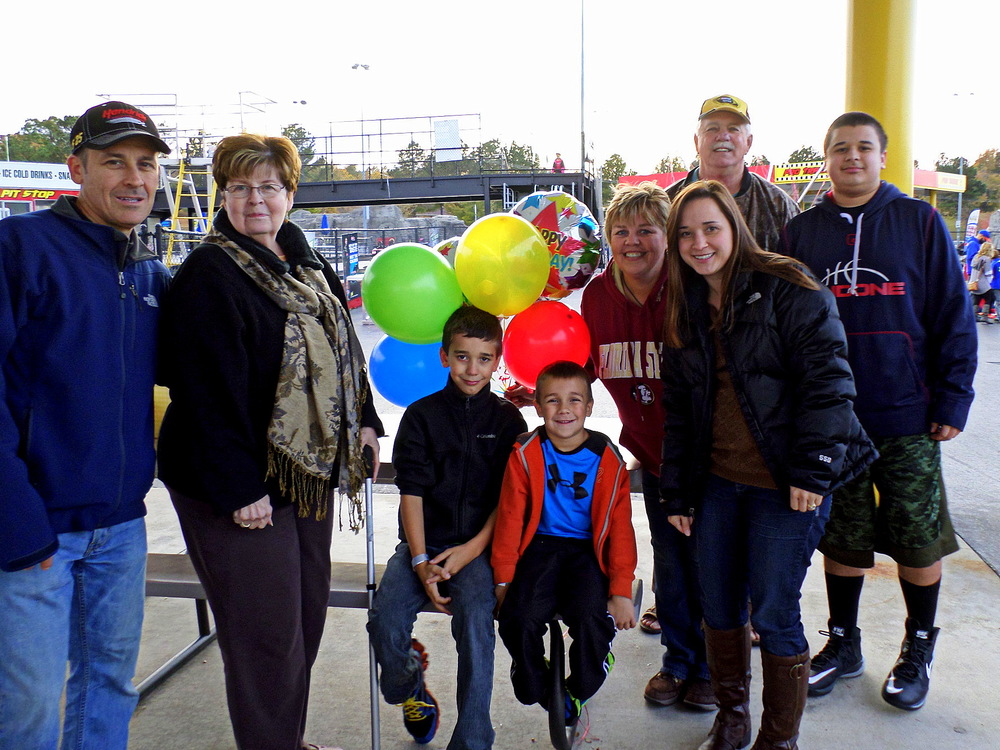 Home of the $99 BIRTHDAY PARTY
Plan your special day with us. Birthday parties offer Go karting, Mini golf, Attractions, Party planner and of course fun! Birthday parties start at just $99.
Book your birthday at The Speedpark and make it one to remember forever!
Call to speak with a Customer Crew Member today and plan your special BIRTHDAY! CALL 704-KART-ING.
WANT MORE FUN? Enjoy all the FUN ATTRACTIONS.
Miniature Golf- A Family Favorite! Play the race themed 18 hole Miniature Golf course. It's 18 holes of challenges, rock caves and tricky race props. The 18 hole Mini Golf is a family favorite. Includes clubs and balls for just $7. per player.
110 Ft Fun Slide- On your mark, get set, GO! Get your sack and race down 3 lanes on the 110 Ft Fun Slide. The Fun Slide is fun for everyone and perfect if you like heights.
Bungee Jump- How high can you jump and flip? Try it out on one of the 4 trampoline Bungee Jumps. Just about any size can jump on the Bungee Jump. Jump up, Jump high, Jump on the Bungee Jump!
Spider Climb- This 8 story high Spider Climb isn't for spiders, its for those who love obstacles and want to climb to new heights.
$20 gets you UNLIMITED ATTRACTIONS if you don't want to ride go karts get the UNLIMITED ATTRACTIONS WRISTBAND.
The Speedpark at Concord Mills is conveniently located in Concord, NC at Concord Mills. This amazing amusement center offers Go karting, Mini Golf, Birthday Parties, Attractions and FUN! Drive on 4 outdoor go kart tracks, play the 18 hole miniature golf, race down the 110 ft Fun Slide, jump up and down on the Bungee Jump, Climb the 8 story high Spider Climb and celebrate your Birthday under the Party Pavilion. The Speedpark is outside, behind Concord Mills just outside of Sea Life Aquarium, Neighborhood 7. All ages as welcome at The Speedpark. Spectators are free. Unlimited wristbands are on sale for unlimited go karting, mini golf and attractions. Buy online, call 704-KART-ING or buy your passes at The Speedpark, Concord Mills.
Go Karting, Ride Go Karts, Drive Go karts. Go Karting in Concord, Go kart Center, Race Go Karts, Go karting, Go Karts
The Speedpark, formerly NASCAR Speedpark, offers 4 Go Kart Tracks, 18 hole Mini Golf, a 110 ft. Fun Slide, Bungee Jump, Spider Web, Video Games, and Party Pavillion. A family fun amusement park near Charlotte, NC at Concord Mills Mall. Call 704-KARTING or visit us online atwww.TheSpeedpark.com
Want to be apart of The Speedpark Concord Mills Team?
Copyright 2013 © The Speedpark. All Rights Reserved.